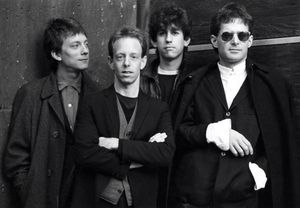 The four-piece band was formed in Los Angeles in 1979 when singer/songwriter/guitarist Steve Barton linked up with Larry Dekker on bass and Dave Scheff on drums. A second singer/songwriter/guitarist, Robert Darlington, joined soon after and completed the lineup. The combination of two talented songwriters and a powerful energetic rhythm section became the key to their success.

Translator then relocated to San Francisco where they were signed to Howie Klein's independent label, 415 Records, on the strength of the demo tape they sent to college radio station KUSF: the loose and rambling yet laconic "Everywhere That I'm Not" has remained the band's signature tune. The song was featured on Translator's debut album Heartbeats And Triggers, which was produced by the widely respected David Kahne. As a result of 415 Records' national distribution arrangement with Columbia Records the debut album received good promotion and became an underground and College radio hit in 1982.

Between 1983 and 1986 the band completed three more albums for the same label. They also received significant airplay for other songs such as "Un-Alone," from No Time Like Now (1983). For their second pair of albums Translator worked with Ramones producer, Ed Stasium. The self-titled third album Translator (1985) contained fan-favorites "Gravity," "New Song" and "O Lazarus". The music video for the single "Come With Me" was filmed in India. The fourth album Evening of The Harvest (1986) was recorded mostly live in the studio and featured such gems as "Standing In Line," "These Old Days" and "Stony Gates of Time".

2014 saw the release of "Carriage Of Days", the first new Translator album in several years. In 2015 the great label Omnivore Recordings released a 22-song career-spanning collection of the band's previously unheard demos. This terrific set is called Sometimes People Forget. Translator reunited for a string of West Coast dates to celebrate the release in May of 2015.

Other reunion shows include South By Southwest in Austin in 2006, gigs on the West Coast in September 2009 and again with the Long Ryders in 2017. 
Translator released their first ever live album in October 2022. The album, "Translator Live!", documents their legendary 1986 show at The Farm in San Francisco. At the time they believed it to be their final show - but as mentioned above, it was really just the start of a long hiatus.